Travel Maps of Baja California
The travel maps of Baja California below are as accurate and up-to-date as possible. Each map will provide you with a good visual guide to the Baja Peninsula. These travel maps of Baja California are great for reference and everyday vacation planning, but should not be used for serious navigational purposes like offroading.
If you plan on going off the big roads and highways, we suggest using more detailed maps of Baja California.
A great place to find more detailed maps of Baja California would be in the Baja California Almanac. We use this 50+ map booklet to help research our trips. The authors of the Baja California Almanac also create excellent folding maps of Baja California.
When driving in Baja, you may come upon some different road signs. We have included a quick translation guide below to help you navigate the roads of Baja:
ALTO – STOP
TOPE – SPEED BUMP
PELIGROSO – DANGEROUS
CUIDADO – CAUTION
DESPACIO – SLOW
DERECHA – RIGHT
IZQUIERDO – LEFT
DERECHO – STRAIGHT
ENTRADA – ENTRANCE
SALIDA – EXIT
DESVIACIÓN – DETOUR
CURVA PELIGROSA – DANGEROUS CURVE
CRUCE DE PEATONES – PEDESTRIAN CROSSING
ZONA ESCOLAR – SCHOOL ZONE
ZONA DE GUANDO – LIVESTOCK ZONE
NO UTILIZAR FRENO CON MOTOR – NO ENGINE BRAKING
NO MANEJE – DO NOT DRIVE WHEN TIRED
NO MALTRATE LAS SENALES – DO NOT DISREGARD THE SIGNS
NO TIRAR BASURA – DO NOT THROW TRASH
NO HAY PASO – ROAD CLOSED
NO REBASE – NO PASSING
PROHIBIDO EL PASO – DO NOT PASS
GUARDE SU DISTANCIA – WATCH YOUR DISTANCE
DISMINUYA SU VELOCIDAD – SLOW DOWN
REDUCTOR DE VELOCIDAD – REDUCE YOUR SPEED
RESPETE LÍMITE DE VELOCIDAD – RESPECT THE SPEED LIMIT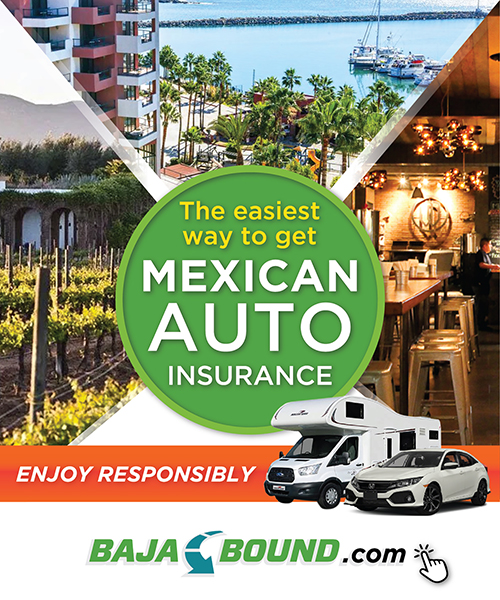 We have a few road tips that you should follow while you're in Baja:
You may encounter one of the 4 or 5 military checkpoints along the road while driving in Baja. Don't be alarmed! They are a part of the Mexican Government's attempt to deter and prevent crime in the area. Remain calm and comply with any searches or inspections that they carry out. You'll be back on your way in no time!
Make sure that your Mexican car insurance is on you at all times!
Bring extra supplies! Don't be afraid to grab extra gas, food, and other items as they may be unavailable ahead. Drives in areas such as the Catavina Desert or long routes between cities such as El Rosario and Guerrero Negro are exceptionally long! It's important that you always have extra supplies just in case things take longer than expected!
We recommend driving during the daytime while you're in Baja. Not only will it be easier to read the maps, but you won't have the risk of running into roaming cattle at night!
Make sure that you're complying with all Mexican road laws and street signs. Never drive under the influence, especially in Mexico.
Check with the locals for the safest/quickest route to your destination. Odds are they will help you the best they can.
These Maps of Baja California may sometimes be out of date. Be sure to use a GPS on your phone or in your car if for whatever reason your map is unreliable or cannot be found!
Finally, ensure your car is given a maintenance check before you travel! It would be such a bummer if your car suddenly broke down while you were on the road.
We hope that you find these tips helpful on your travels. We will be updating the maps of Baja California periodically to ensure that you have up-to-date travel information!
Click on any of the PDF links below to see the full-size, printable Maps of Baja California.
Map of Baja California (Full)


North Baja Map (Detailed)


South Baja Map (Detailed)


Tijuana Border Crossing Map (Detailed)***


East Cape Baja Map


Cabo San Lucas Map


La Paz Map


San Jose del Cabo Map

***This map was specifically designed for one purpose only…to get you across the border, and into Baja, without getting lost, and getting you out of the Tijuana area ASAP. At the present time, with the trouble in the northern border areas, we suggest that you fill your gas tank, change some dollars into pesos, get your Mexican Auto Insurance (do all of this on the U.S. side of the border) and drive south! (After stopping to get your FMM at the Mexican Immigration office).
We do not consider Tijuana to be a safe place to visit at this time. Although we would probably not hesitate to visit Rosarito Beach (45 min. south of the border) or Ensenada (90 minutes south of the border) we feel that because of some past violence in these areas, it is best to advise travelers to drive through them, as well, and continue south. San Quintín (4 to 5 hours south of the border) is a pretty safe place for a first-night stop.
To feel even safer we suggest that you drive even further south to El Rosario (5 to 6 hours south of the border), Cataviña, (7 to 8 hours south of the border), or even Guerrero Negro (10 to 11 hours south of the border) in Baja California Sur. Yes, it's a lot of driving but…better safe than sorry. Baja California Sur is the safest state in all of México and you may travel at your leisure from here on out.
See our "Baja Safety" page for more information. Also see: Travel Tips